Mississippi Valley State University (MSVU) is a small university in Itta Bena, Mississippi, with a history of accomplishments that would be the envy of much larger institutions. For example, MVSU's most famous alumnus is Jerry Rice, who entered the College Football Hall of Fame in 2006 and the National Football League Hall of Fame in 2010, the same year the NFL Network chose him as the "NFL's greatest player of all time."
Rice's success on the football field began on the natural grass turf of the stadium that now bears his name as well as that of teammate Willie "Satellite" Totten on the MVSU campus. A few years ago, when Rice-Totten Field was renovated from the ground up the project was executed with the same kind of team effort that made MVSU a football powerhouse.
Tommy Verdell, Jr., director of MVSU's Department of Facilities Management, was at the center of the renovation project and saw first-hand what can be accomplished when "everyone is on the same page and there's no us-versus-them."
"The whole project took only 14 months," Verdell said, "and that included about six months of planning. We began demolition on the old stadium on March 11, 2012, and hosted our first game in the new facility on September 3, 2012. The field was open for the whole time for track team operations and workouts."
The original 15,000-seat stadium was built in the 1950s and had last been renovated in 1987. Phase I of the $5.5 million project in 2012 covered new grandstands, including restrooms, concessions, a first-aid area and a new club level deck on top of the grandstands. Other improvements included an emergency generator system.
Standby power is provided by a 400 kW diesel powered generator manufactured by Taylor Power Systems in Clinton, Miss. The Taylor TD400 generator set is powered by a Perkins® 2206D-E13TAG3 ElectropaK, a 6 cylinder, turbocharged, direct-injection diesel engine. Aimed at the power generation market, the company said its ElectropaK engines are engineered for clean, rapid starts, low oil usage, low wear rates, and high operational reliability, said the engine manufacturer.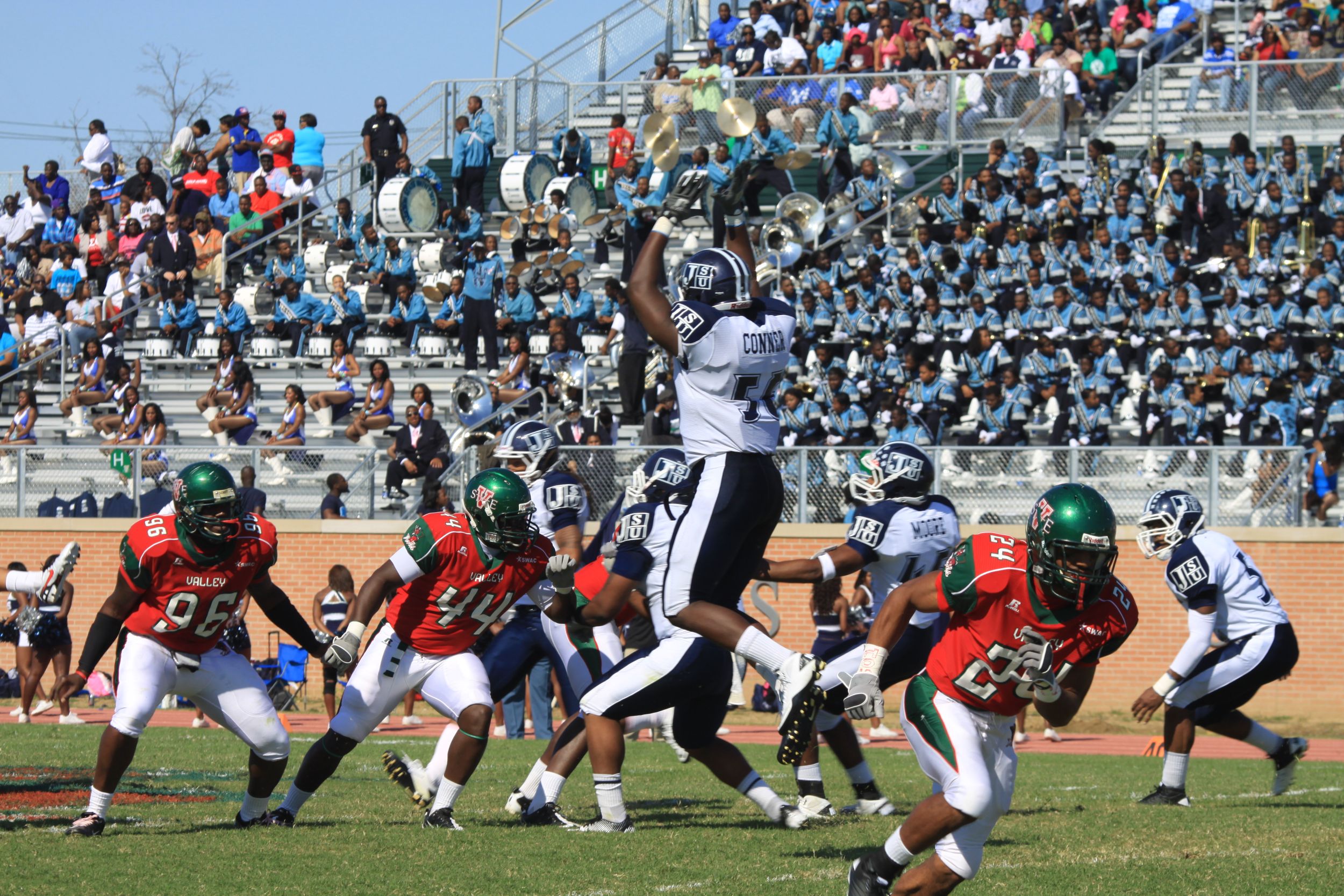 Players in action at the Rice-Totten Stadium
The unit has a tank with sufficient capacity to power it for 24 hours under full load. The enclosure is 14 gauge galvannealed steel and has stainless steel hardware throughout. The engine and alternator – Taylor spec's both Stamford and Marathon units in its standby generators -- are separated from the heavy-gauge steel skid by vibration isolators. The digital controller is from Basler.
"Thunderstorms and tornados are always a concern in this part of the country," Verdell said. "We need to be able to evacuate the stadium efficiently in case of dangerous weather, and that requires a dependable source of electricity to power lights and alarms throughout the facility.
"Because of the heat we have here in the Delta, many of our early season games are played in the evening, when it's cooler," he said, "and daylight savings time puts many of our late fall games under the lights, too. Dependable emergency power is even more important during the hours of darkness."
The generator set makes it possible for Rice Totten Stadium to comply with both National Fire Protection Association (NFPA) rules and the International Building Code light safety codes as required by the Mississippi Bureau of Buildings, Grounds and Real Property Management. It is automatically energized in case of a failure of grid power to provide electricity for emergency lights, strobes, audible fire alarms and the stadium public address system that is used to give instructions during an evacuation.
"Getting the generator set ordered, built, tested and delivered in the short timeframe we had for this project required real teamwork from everyone concerned," Verdell said. "The communication between JBHM Architects of Jackson, general contractor Evan Johnson & Sons and Taylor Power Systems was a perfect example of the kind of cooperation and teamwork that we saw at every stage of the project."
"Building reliable gen-sets is something we thrive on," said Reed Nicholas, general manager of Corporate Accounts, Taylor Power Systems, "with our attention to detail and knowing that the devil is in the details. When it comes to generator sets they simply have to run when they are needed."
A family-owned company, Taylor Machine Works was founded in 1927 and Taylor Power Systems in 1986.The company builds a range of standby and prime power generator sets with engine options that run diesel or natural gas.
"The growth we have seen since our inception to today has been astronomical, and especially in the past five to six years," said Nicholas. "That growth has required us to move our manufacturing three times in the past three years. We are now on a 65-acre campus with a state-of-the-art facility that has 300,000 sq. ft. under one roof."
"Taylor Power Systems takes care of customers in the Southeastern United States from multiple facilities strategically located throughout the region that are fully staffed. We have a combined team of nearly 100 dedicated to this region alone consisting of sales, service, parts and support personnel. In other regions of the country and the world Taylor Power Systems sells and supports our products through a growing distribution network." said John Scarborough, General Manager, Taylor Power Systems.
"This keeps us in touch with the units that we build from how they perform to how they stand up to the conditions. We see it first-hand," said Steve Duke, general service manager, Taylor Power Systems. "That allows us to never lose sight of what the dealer or distributor deals with on day-to-day basis in order to keep customers happy. It is a nice feather in our hat that keeps us in check with our products and not just from a manufacturer's standpoint."
The biggest message to get carried from the field technicians to the engineers is to ensure the units are service-friendly, said Duke. "One big benefit that we offer is that the software for the controllers is not proprietary. We designed it so any customer can support the generator on an emergency basis. With 24/7 phone support from Taylor we can walk somebody through it. We are also careful with the design of the generator, such as ensuring that when the doors open there is easy access to components and that the oil and coolant drains are in the right location and service-friendly."
On the Rice-Totten Field, the Taylor generator set gets tested every week. "It's started and run under full load including the lights, strobes, alarms, and even the PA system," said Verdell."It's just like throwing the ball to Jerry Rice. Every time we push the start button, it delivers."
---
Fast facts
Mississippi Valley State University (MSVU) relies on the Perkins® 2206D-E13TAG3 for a dependable power solution
Customer: Rice-Totten Stadium, Mississippi Valley State University (MSVU)
Location: Itta Bena, Mississippi
Engine Specification: 1 x 2206D-E13TAG3
Application: Standby power
Date of Installation: 2012
Average Running Hours: When required