Since 2003, UK-based forklift truck manufacturer, Nexen, has been producing its range of 1.6 to 5 tonne trucks driven by an ethos of innovation.
It currently builds around 1,200 machines a year, which it sells worldwide; each truck designed to handle the toughest and most demanding applications and deliver, what it says, is the lowest cost of ownership in the industry.
Specific engine requirements
When Nexen received a tender from a North African petrochemical company to supply a number of vehicles for work in hazardous areas, it knew it faced a new challenge and that it would need to call on its experience and innovation to deliver the best solution.
At the time the company's existing engine supplier was unable to supply a lesser -regulated engine of the correct power output and specification, so a call was made to Perkins.
"We had a number of criteria to meet, the first one obviously choosing an engine that could power a 5 tonne truck and was suitable for the duty cycle. A major factor was also using an engine that was readily adaptable for hazardous area working, so that it was ATEX 94/9/EC compliant. This involves insulating items such as manifolds, exhausts, in fact any surface area that gets hot."
Jarrad Oakes, Nexen's business development manager.
Given that the destination territory was a lesser-regulated emissions territory, Nexen opted for an EU Stage IIIA equivalent Perkins® 1104D-44 engine. The naturally aspirated 56 kW unit offers good fuel consumption (SFC) and reduced noise, vibration and harshness (NVH) characteristics; important criteria for work of this type.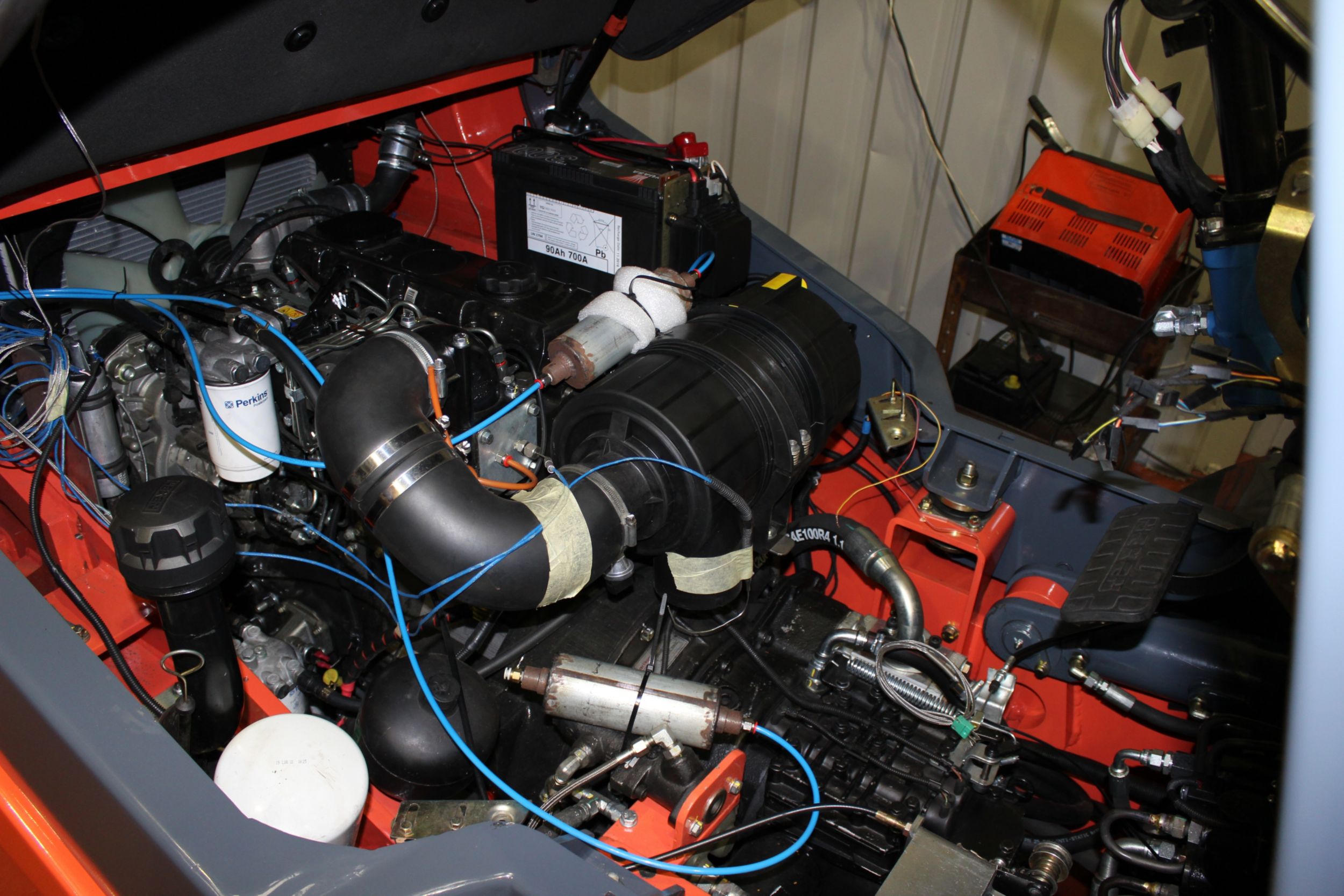 Machine integration
There then ensued the whole engine/machine integration process, which given the urgency of the tender, meant compressing a great deal of design, engineering and validation work into a short timescale.
Modifications included a redesigned cooling pack to cope with the high ambient working temperatures that the trucks would face, reconfiguring the flywheel housing, mounting the fan higher than normal and using a non-standard low pressure fuel system.
"There was a great deal of work to do and, with recognition to Perkins and the Nexen team, what normally would take up to 18 months to complete was squeezed into just four months. I'm not sure many other engine suppliers could have been as quick to respond. Without doubt being able to change the engine architecture to fit the tight packaging requirements was enormously helpful," comments Jarrad.
"What was also particularly impressive was the availability and speedy delivery of installation parts, which really helped the manufacturing process."
With 40 trucks now on order and an additional 110 trucks in the pipeline Nexen is looking, where possible, to expand its range powered by Perkins.