When Devon beef and sheep farmer Andrew Kneebone replaced his previous Landini tractors with two new models, he was understandably concerned about saying goodbye to his faithful workhorses.
The two new tractors, the latest spec Landini 5-110H units, incorporated the very latest in engine emissions technology under the bonnet and Andrew was wary of any potential pitfalls that this new technology might expose him to.
"But my concerns were unfounded; the emissions system doesn't impact on performance or anything else," he says. "It's unobtrusive and the new engine pulls really well; I was a bit dubious but I'm more than pleased with the new tractors."
Powered by Perkins 4 cylinder 854E-E34TA engines, Andrew's new Landinis are helping him farm his 200-acre all grass property in Devon, where his family run 500 Suffolk and Texel ewes and a newly established herd of 25 Hereford cross suckler cows.
Any misgivings he might have had were quickly dispelled when he got behind the wheel. "I was very encouraged when the first of these tractors pulled the horse box up our lane over the brow of the hill in top gear," he recounts. "That seems a silly thing but it's the first tractor I've had that could do it, which shows how much more power and torque there is."
Despite the 5-110H model being powered by a smaller Perkins engine, 3.4 litres as opposed to the 4.4 litres in its predecessor, power and torque are improved. What's more a 'power boost' feature allows the electronically managed fuel injection system to extract extra performance when the tractor is engaged with a pto-driven implement or is operating in its higher gears on the road.
In those situations, the standard 78 kW (105 hp) output increases by 8 percent to 84 kW (113 hp) and the torque goes up by 9 percent. Yet the new engine has demonstrated up to 8 percent fuel savings over its predecessor.
"The extra power means you don't have to change down too much to keep the engine revs up," Andrew points out. "And if the engine doesn't have to run so fast it's not using as much diesel."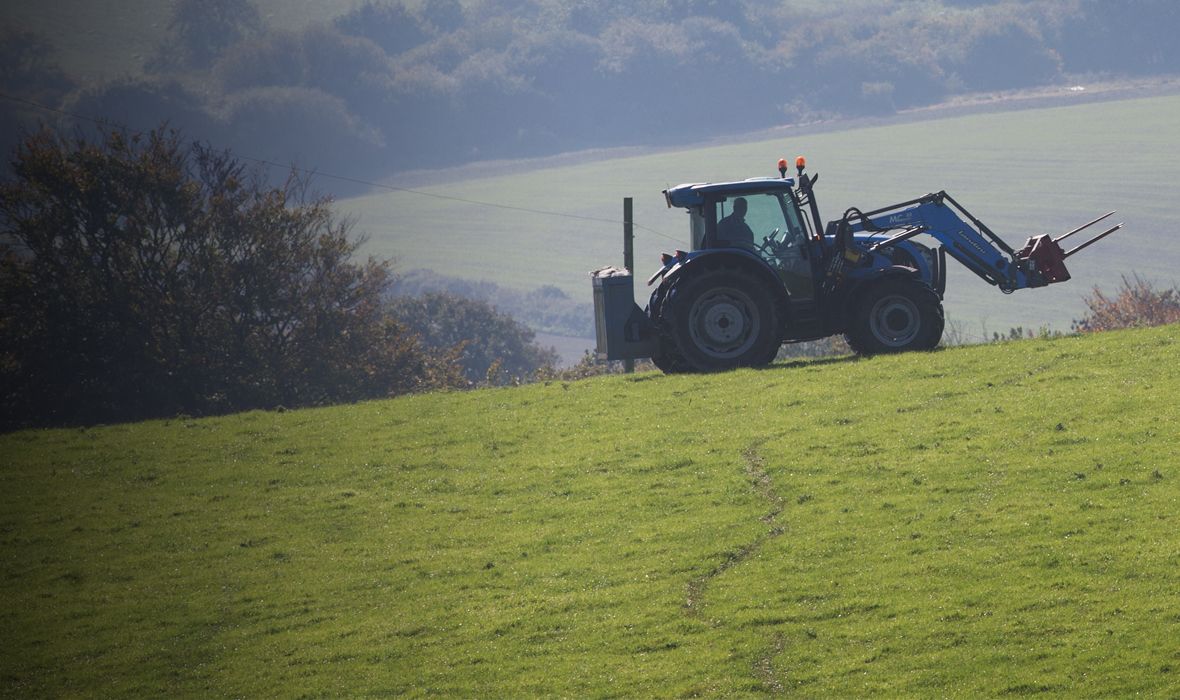 Even the nagging doubts about having exhaust aftertreatment on his tractors were allayed. "A light comes on to show that the regeneration process has started. You can carry on working but I tend to go and do something else while the tractor stands idling for a few minutes so the process can finish quickly; it's really not intrusive into the daily routine."
While the farm's 5-110H equipped with a Landini MClassic 80 loader undertakes bale wrapping and stacking, hay turning and all handling duties, the second tractor powers a mower and round baler for silage, a plough and harrow for grass reseeds, and a trailer, muck spreader and other equipment used through the year.
"We really need something small and nimble enough for the buildings but big enough to handle the field work," concludes Andrew. "These Landini tractors fit the bill perfectly."